St. Mary's South Catholic/Bishop Klonowski MEGA REUNION 2
Classes of 1950 through 1982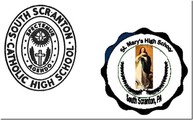 WHAT'S NEW!! My husband of 43 years passed away on July 1, 2018 from Pancreatic Cancer,
The other set of twins(girls) were born on Nov. 9th in 2015, and the 5th boy, Jacob, was born in 2018. I learned that Bob Wojewodski died recently, and I wish to commemorate him. I've not had any contact with Bob since college, and then only on incidental occasions. So I cannot speak about his adult life. But in high school Bob was my friend, and a very fine friend he was.

During our time at South Catholic Bob was invariably gracious, keenly intelligent, and remarkably creative. From his bell-ringing scampers down Nativity's corridor when it was time for us to change Freshman classes, to his colorful Madras personality brightening our Sophomore days at St. Mary's, to his extraordinary artistry and public speaking prowess during our years at the new South Catholic, Bob invigorated our class in a unique way. I feel very fortunate to have shared a friendship with him during those formative years long ago.

I hope that Bob was at peace in his life and at his death. May his spirit live on. Because this year is the 50th anniversary of our graduation, I've spent pleasant hours reflecting on our time together as South Catholic's Class of '67. I sincerely thank my classmates and friends for the countless high school interactions that helped to shape me as a person, and for the kaleidascope of memories of our South Catholic days. In the "School Story" section on my Profile page I offer to anyone interested a personal recollection of those days.